It's official!! Our new album "Trouble In Eden", will be available worldwide August 26 from Ripple Music. 10 tracks of pure heavy groove, with cover art by Kiren In Digital Illustration.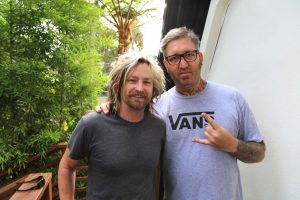 We spent a year writing and four months recording this beast! We started in Pasadena at the Barnshelter Studios, home of Stone Temple Pilots Drummer Eric Kretz and laid down the drum tracks.
When asked what is was like to work at Kretz's studio, ZED drummer Rich Harris said "Man it was refreshing to hang with someone so passionate about everything music and friendly to boot. More real and cool and down to earth than many industry folks down here in SoCal. Thanks so much dude. Fantastic experience at your studio"
Then the band took the tracks back up north to Sonic Room Studios in Livermore California and did the rest of the tracking from Sept-Nov with Tim Narducci, who had done their last album "Desperation Blues".
The album cover art was created by Kiren Bagchee of Kiren in Digital Illustration. The band collaborated with Kiren with the goal of creating something that reflected the feel and lyrical content of the album, something provocative and sexy, yet dangerous and imposing. In this exploration they were drawn to the image of Kali, the multi-limbed Hindu Goddess who represents Time, Change, Power, Creation, Preservation, and Destruction.
Additional thanks to Jim Dunlop Guitar Products Darkglass Electronics Sugar Percussion and Splawn Amplification for their contributions to this album!